General Meeting & Presentation: Earning Your Wings: Volunteering as a Search Angel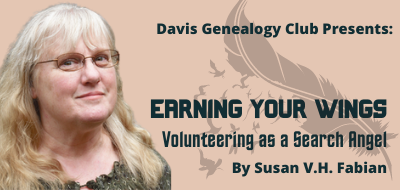 Whether they are adoptees, children of unknown parentage, or those simply looking for answers about their biological roots, there are thousands of people needing help from experienced genetic genealogists. In this presentation, Susan V.H. Fabian will explore avenues to find those who need help, the process of working with them and finding their family, and the privacy, ethical and emotional issues of doing this work.
---
Susan V.H. Fabian is a research and genetic genealogist at Your Genealogy Journey / Your Genetic Journey specializing in tackling brick-wall problems and adoption cases using DNA. Her regional expertise is in Maryland State records. Susan holds a Certificate in Genealogical Research from Boston University and is currently a member of ProGen 52 and several other genealogy study groups. She has taken additional coursework in Genetic Genealogy, Forensic Genealogy, Advanced Search Methods, and Teaching. Susan volunteers her time with Search Angels, Find-A-Grave, and the Maryland State Archives. She has taught classes in research methods and genetic genealogy.