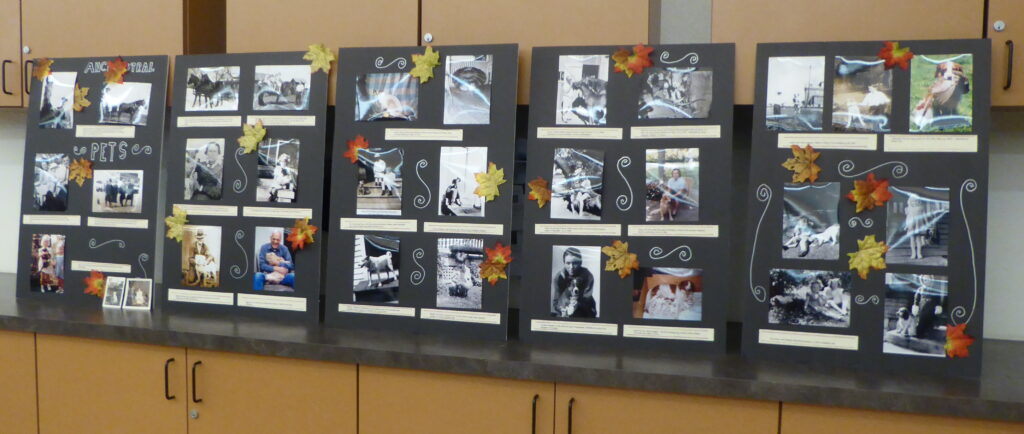 Starting in 1979, a group of people in Davis, California, gathered to share their interest in genealogy and family history research and they formed a club named the "Davis Genealogical Club and Library". Ever since then, the club has shared with its members and provided meetings where special speakers could come and help us learn how to do genealogy better.
In 1983, when the new Davis Senior Center opened, one room in that building was dedicated to storing genealogy books and holding meetings. The library has remained a center for many activities, but in 2006 we shortened our name to "Davis Genealogy Club". That was also the year we created our first website.

In 2021, with this newly revised website, we hope to welcome more people participating in our online programs — wherever they may reside.
See some photos of our events and activities on the DGC photos page.
Announcements of many of our past programs are on the DGC flyers page.
The table below lists all the past presidents of the Davis Genealogy Club and the years that they served. Included are a few of the DGC logos we have used over the years.
Past Presidents ...
1979-1988
Warren Westgate
2007-2008
Lisa Henderson
1988-1993
Clarence Barry
2009
Betty Jane Polk
1994-1997
Barbara Bacon

2010-2013
Lisa Henderson
1998-2000
Inez Moran
2014-2015
Cynthia Steimle
2001-2003
Mary-Ann Holt

2016-2017
Sue Torguson
2004
Caroline House

2018-2021
Lisa Henderson
2004-2005
Betsy True
2006
Linda Luther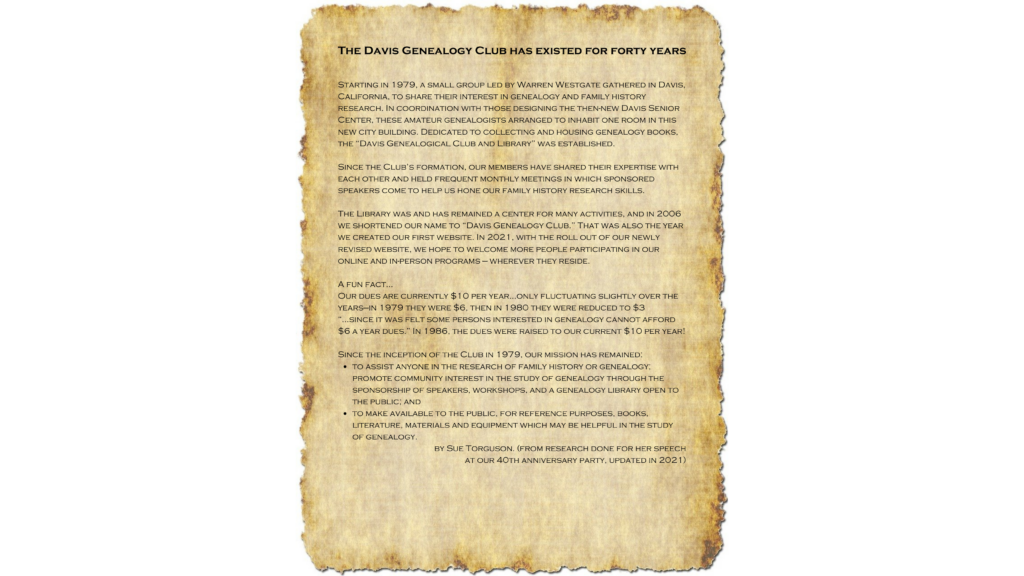 Warren A. Westgate
Davis Genealogy Club & Library Founder
Warren A. Westgate was passionate about everything he chose to do. From political activism to photography to studying his family history, he did it all intensely and succeeded in a large way, many of his causes benefitting the lesser advantaged population of his adopted town.
Born on September 12, 1904, in Plainfield, New Hampshire, Warren Adelbert Westgate attended the University of New Hampshire at Durham for five years, then married his sweetheart Dorothy Small on 27 Nov 1925 in Ithaca, New York. The couple had two children, Jane Esther Westgate born c. 1928, and John W. Westgate, born c 1930. By 1940 they had moved their family to California and settled in Davis.
In 1979 a small group led by Westgate founded the "Davis Genealogical Club and Library." Working with a group developing the new Davis Senior Center, a home for the library (largely consisting of Westgate's personal genealogical library, which he donated to the club) was established in 1983. Westgate served as President of the newly founded club from 1979 to 1988.
A talented photographer and artist, who at one time studied with Ansel Adams, Westgate would avail his works free of charge to local newspapers, exhibits, and speaking engagements. On August 25, 1968, he opened a small gallery at 412 G Street he called Significant Directions, which he dedicated to introducing the works of young photographers. In 1969 he was the Davis Art Center's President, Chairman of the photography exhibit, and an instructor of photography. He was the Editor of the "Delta Council Bulletin and the "Sierra Camera Club" in Sacramento and was a "two star man" in the Photographic Society of America. His photographic work is held at Shields Library, UC Davis Special Collections.
Others of Westgate's accomplishments and honors:
Peace Activist – conducted the "longest silent peace vigil in America," from 15 Mar 1967 until 23 Jan 1973, the end of the Vietnam War.
1972: Received the C. A. Covell Award as Davis Citizen of the Year
1973: Served on the Yolo Grand Jury
Active in the Gray Panthers
A longtime advocate for Davis's senior citizens, helping create the Senior Center and Senior Citizens Commission.
Fought for housing for elderly, low-income, and fixed-income residents.
In speaking of himself when being awarded the C. A. Covell Award, Westgate wryly noted, "In view of my image: crusty, closed-minded, sometimes a public nuisance, obstreperous, and a Gray Panther, I have a feeling that the committee just felt the need to preserve an endangered species."
Westgate died in Davis on 20 Nov 1989. He and his wife, Dorothy are buried in the Plainfield Cemetery in Plainfield, New Hampshire, with his parents and many ancestors.
Sources:
Davis Wiki <https://localwiki.org/davis/Warren_A._Westgate>
Sacramento Bee 28 Apr 1985 P38 c1
Davis Genealogy Club < https://davisgenealogy.org/history/>
Davis Community Awards < http://www.daviscommunityawards.org/warren-westgate-covell-1972>
…